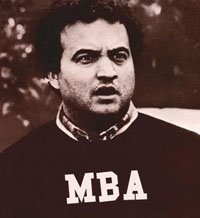 A few years ago, I was at a crossroads in my career and I felt completely stuck. I knew I wanted to transition into something more entrepreneurial, but to get there I felt like there were only two options: get a new job, or get my MBA.
As I thought about the reasons I wanted a new job (more equity, more decision making) I realized there was no way I could find a job that satisfied my criteria – at least not within consumer packaged goods marketing.  And finding the right fit outside of a large CPG company would be difficult with no prior experience.
So getting my MBA seemed like the sensible alternative.  I started talking with friends and colleagues who had gotten their MBAs from the top programs in the world. I researched online. I looked at what it would take (and cost) to get into the best programs, and what my prospects would be coming out with my MBA.
In the end, though, a surprising thing happened. I became convinced that getting an MBA wasn't the best path to entrepreneurship. Here are  5 reasons why…
#1 -There Are Better Ways to Spend $100K and Two Years
First, let's make the assumption that you are only considering the top 25 MBA programs
. (You are only consider the top programs, right?)
So, how much does a top MBA cost? According to this article, tuition alone for the two years will run you roughly $100,000.  On top of that, you will have to pay living expenses.  But you will have to live in either scenario, so we will call this even.
How much does it cost, in comparison, to just start your own company? Well, that's really up to you.  But its nice knowing that as long as you spend somewhere less than $100,000 over the next two years, you will be ahead of MBA students.
#2 – You Could Learn More on Your Own
I'm going to tell you a little secret that students from the nation's top MBA programs have told me: getting your MBA isn't really about learning.  And professors aren't really there to teach you (Universities have to make money, after all). So why does it cost $100,000? You are paying for the experience (which I've heard is awesome), the connections and the job opportunities.  That may be reason enough for you to go, but if you are expecting for it to be an amazing academic experience that prepares you for everything you need to know in your career, you will be disappointed.
If you truly have the desire to learn from the professors at the best business schools in the world, I'll let you in on another secret.  You can watch a lot of them online. For free!   Want to take a business school master class from professors at Columbia University?  You can download the lectures here.  Absolutely free. With a little ingenuity, you can string together an unbelievable education for yourself at no cost.  True, you won't get the title of "MBA" added to your name, but in entrepreneurship, titles are less important than results.
It's also true that there is no better education than doing.  Think about the first job you had out of college.  If you were a business major, you were likely surprised (as I was) at how little your degree had really prepared you for the real world. But you quickly adapted. Starting your own business is like this, but on steroids.  You learn everything because starting out you have to do everything.  Don't believe me? Look at what I've been learning in just the first 30-days.
And finally, the lost art of reading good books can teach you more than months of lectures.  For this reason, even though we're living on a pretty tight budget right now, I intentionally don't set a limit on what I can spend on good business books.  I'd rather spend $100 on books written by the top business minds in the world and soak them for all they're worth than spend $100,000 on an MBA
#3 – Necessity Breeds Greatness
You know that 10-page paper you wrote in college? The one you didn't even start until 11 hours before it was do? And somehow, through a combination of Mountain Dew, Red Bull, and green tea, you miraculously finished it?
That was the best paper you wrote.  And it wasn't an accident.
Robert Greene in the 33 Strategies of War calls this the "Death-Ground Strategy."   Its roots go back to Sun-Tzu over two thousand years ago. He wrote about strategically placing your army with its back gainst a geographical feature like a mountain or a river.  Now this was (and is) a radical idea! Why would you intentionally take away the option for retreat? But Sun-Tzu understood human nature.  When an army (or person) feels like they have an easy escape, they aren't as motivated to fight.  If things don't work out, they know exactly where they are going! But without an  escape route, people will fight with double or triple the resolve.
Cortez used this same strategy in his conquest of Mexico.  He had 500 men, and he was going up against a nation of 500,000 Aztecs.  The men in his group were divided and grumbling and a little worried about their chances (probably rightfully so). The situation seemed hopeless and everyone wanted to go back home.  Then Cortes did the unthinkable.  He destroyed all but one of the ships in his own fleet.  He sank his own backup plan.  Cortez gave the men a choice – fight to the death with him in Mexico, or return in the one ship left.  Every man stuck with Cortez, and they sank the remaining ship.  Two years later, 500 men had conquered the mighty Aztec empire.
All I'm trying to say is that its actually a good thing to throw yourself into difficult and unfamiliar situations – like starting a company.  You'll have more energy, more drive, and more passion when you take off the life jacket than when you follow the same path as everyone else.
#4 – You Will Probably Feel the Same Way About Your Post-MBA Job
The thing that frightened me most about getting my MBA was that after two years and $100,000 spent, I would end up in a job that I liked no better than my current job. I've seen it happen way too many times.  The problems of your current job won't be solved in another job. It may improve slightly.  But there are always trade offs.
And after two years of no income, and with over $100,000 in debt, the last thing on your mind will be taking the risk and starting your own company.  Be reasonable. You will need to go out into the corporate world to pay-back your debt, and that's going to take at least 5 years. By that time you will have become comfortable enough with your job and salary to make it very difficult to leave.
#5 – Experience Matters Too (Maybe More)
What if after two years on your own, nothing works out in your business? In that case, doesn't the future look brighter for the person with their MBA?
Not necessarily.  If you were a hiring manager at a fast growing, innovative company, which would you rather have: someone with their 2 year MBA, or something with two years of entrepreneurial experience?
When I was interviewing for jobs coming out of undergrad, I only had two previous  job experiences on my resume.  The first was a company I started up the summer of my sophomore year called "Home Imaging Solutions." The second was a sales internship at Kraft.
My interview was with a Fortune 100 company, so I prepared myself to talk about all the great experience I had working with Kraft.  To my surprise, in every round of interviews, they wanted to talk about my summer start-up.  When I got the job, everyone said how impressed they were and how excited they were to have someone on the team who had been an entrepreneur.
Not every company will be that accepting and that's OK. Look at it as a litmus test.  If they don't value entrepreneurship, that's probably a sign that they aren't looking to grow that much.  In which case, you may be better off elsewhere.
In Summary
So those are the 5 reasons I choose to skip B-school and go straight to entrepreneurship.  If you already have your MBA, I'm not trying to bash MBAs.  Most of my best friends have their MBAs and every one of them says the experience was amazing.  Also,, depending on your career goals, it really may be the best (or only) option for you.
But I think for a lot of people feel like they have to get their MBA to successful start and run and company, and I just don't think that is true.  For those in that camp, I hope this was helpful!
#
LEAVE ME A COMMENT 
If you had 2-years and 100,000 to do anything you wanted, what would you do?