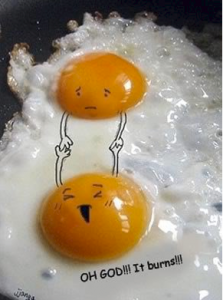 About a month ago, I signed up for something called Pinterest. Maybe you've heard of it. It's like blogging. But for people who can't read or write. In fact, you don't have to have any real talent or cognitive abilities at all to be on Pinterest. A monkey is basically overqualified. All you have to do is find pretty pictures (of anything, really) and "pin-it" to one of your Pinterest boards. It's essentially an exercise in organizing pictures.
But most of you probably already know what Pinterest is. In fact, most of you are already following my boards on Pinterest. Over the past month, my popularity on Pinterest has exploded. Everyday, I receive emails (numbering in the lower-single digits) informing me that another Facebook friend is now following my boards.
And what exactly is it on my Pinterest account that is captivating the attention of the world? I don't know. I haven't logged-in to Pinterest since I initially created my account more than a month ago. So looking for the reason of my newfound popularity, I decided to brave the mindless, thoughtless wasteland of random pictures that is Pinterest in search of clues. Armed with nothing but my user name and password, I pointed my browser to pinterest.com and logged-in to my account. "God help us," I whispered to myself. With a click, I was in. . .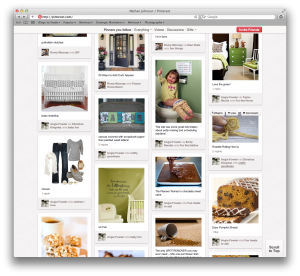 Where Am I?
Upon entering, I was immediately barraged by a neatly arranged, seemingly endless number of random pictures. I wanted to get my bearings, so I tried scrolling to the bottom of the page. Before I could get there, like some kind of black magic, more random pictures appeared. "What the devil?" I tried again, this time scrolling as fast as a could. But the faster I scrolled, the faster the page length extended. It was a fruitless exercise. The page had no end. Exhausted, I gave up and decided to pause and examine the pictures in front of me to try to make sense of it all. There was a picture of chocolate sheet cake, warm out of the oven, with chocolate frosting being poured on top. The colors were unnaturally bright and saturated. It looked as if the chocolate cake was being baked in heaven. Above this picture, there was a somewhat creepy photo of a toddler potty training, giving the camera a thumbs-up. Mission accomplished. Gross. To the side, there was a picture of Dumbo. Yes, Dumbo from the Disney movie. There were pictures of coffee spilling onto a carpet, flower pots, baby cribs, garlic chicken kebabs, a baby red panda (adorable, by the way), and basically all the random crap you can possible imagine. "Where am I?" At this point, there was no turning back.
Pinning the Pieces Together
It was a troubling mystery. What do all these things have in common? Why would Pinterest being showing me this? I went back to the top of the page (which took several minutes of scrolling due to my earlier attempt to find the bottom) and saw the category selected was "Pinners you follow." What? I'm following all these people? How could I be following someone who posted a picture of a toddler potty training? That can't be true. I haven't ever logged in. Surely there must be some mistake in my account settings. Looking for these settings, I noticed something else that had escaped my attention. In the upper-right corner, there was a tiny picture of me that had been taken just a few weeks prior, long after I had initially set up my Pinterest account. Pinterest had managed to keep my account fresh even though I had never logged-in. I clicked on my picture and landed on my account home page. As I suspected, my personal boards were completely empty. The blankness of the page was a huge relief and a welcome retreat from the previous page of wall-to-wall pictures.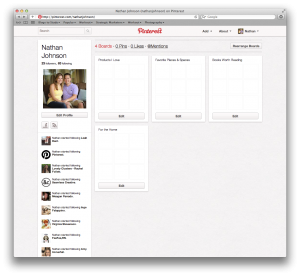 An activity stream on the far left of the page bristled with signs of life. The list extended below the fold. "Nathan started Following _____" There was no time, no date, attached to my supposed activity. Just a list of people, almost all Facebook friends, that I was being told I had started following. Intrigued, I clicked on some of their profiles to see what they had been doing with their accounts. Most of them, like me, had done nothing with their account. Or they had started a board or two, pinned a handful of items to it, and then abandoned the pursuit.
All in all, there were 64 people I was "following," which seemed to be a generous term given I had never consciously requested to follow them, or even once been to any of their boards. And apparently, "following" someone was a life-long commitment. There was no way to unfollow someone. I began to fear that perhaps the people who were "following" me were in a similar situation. They probably were unaware that they were following me and my blank boards.
The reality of what had happened dawned on me.
Facebook & The Rise of the Fauxcial Network
When I signed up for Pinterest, I connected through Facebook. It was easier than filling out all my information manually. I wouldn't have to create and remember yet another password. And it promised to make it easier to find my friends. What I didn't know was that it was going to automatically start following all my friends and then e-mail them on my behalf to let them know.
What they've done is quite brilliant. They've used the new Facebook Connect platform to create misleading social indicators. It feels like a lot is happening. I'm getting e-mail notifications that new friends are following me. But the reality is, the activity is self-generated by Pinterest. I'm betting, though, that this approach will work. Seeing activity and signs of life are increasingly how we make a snap judgement about what is valuable and what is not valuable on the web. This is why it is hard to start a new social network. To get people to be active, they first need to see that other people are active. By giving the illusion that all your friends are already active, even following you, it creates a kind of peer pressure to be more involved in something that is obviously being used. Pretty soon, there will be enough real activity that Pinterest will no longer need to pretend.
I expect this will very soon be the predominate way we sign up for new services. People don't want to have to rebuild their connections every time they sign-up for a new website, so being able to take their existing Facebook friends with them makes sense. But as companies become increasingly smarter about how to tap into the data and permissions you are providing them to manipulate social dynamics, well, I think it will be interesting how people respond. Maybe people won't notice, as I'm guessing is the case with Pinterest. Or maybe they will notice, but any privacy concern will be outweighed by the flattery of receiving e-mails proclaiming a growing follow-ship (albeit illegitimate).
The Rise of Curation
So what do I do next? I contemplated deleting my Pinterest account and just being rid of the whole thing. But first, there was a photo of a Maltese Teacup that caught my eye on the first page. "I'll take a little break" I thought to myself. With just a few clicks, I found myself on a Pinterest board with an impossibly adorable collection of baby animal photos. It was internet gold. There's a dog dressed up like Yoda. A dog giving a high-five to a baby deer. 12 baby panda bears in a crib together. A squirrel trying to fit a whole peanut in the side of its cheek. And suddenly, the value of Pinterest made sense. Pinterest isn't just a random collection of photos. It's a better, more beautiful, more efficient way to waste time. Someone with less of a life than me has already scoured the web for adorable animal photos, and brought them all together in one place, so I don't have to. I can just sit back and enjoy the adorable fruits of their curation efforts.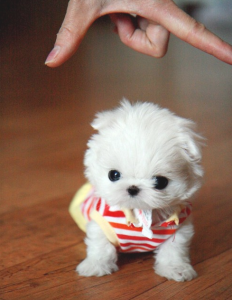 And it made me think more broadly about the state of the web. So much focus has been put on the dynamics between "content creators" and "content consumers." The revolution of Web 2.0 was supposed to be about the liberation of content creation. Well, now that we have an overabundance of content, maybe the next phase of the web isn't about content creation or content consumption at all. Maybe it's about content curation. And the power won't go to the creators or the consumers, but to the expert curators. The people who can connect the fragmented dots that make up today's web.
Or maybe that's all wrong. Maybe people just like to look at adorable animals.