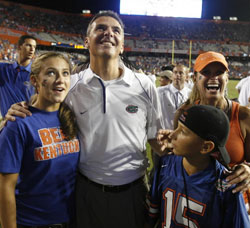 Urban Meyer — most famous for being such a good father and a health nut — has announced that he is resigning from family, effective immediately. This comes as a surprise to many, who cite Meyer's unprecedented 15 game winning streak at the family's weekly Jenga competition along with his near perfect enforcement of his hot daughter's curfew.
At the core of Meyer's decision to shift gears may be a recent series of health concerns.
"The doctors said that if I spent any more time with my family, I would probably be dead within the year. Most likely of boredom."
Meyer acknowledges that it won't be easy making the transition from his high profile gig as the leader of the Meyer household to the relative obscurity of being head coach at Ohio State. On Monday, he released this statement:
"I have been focusing on my family for 10 whole months — minus the 8 months I've focused on being an ESPN broadcaster. During that time, my primary goal has been to be a good husband and father — and trying not to look like a total asshole on live cable TV. I have thoroughly enjoyed every minute of it. At this time in my life, however, I appreciate the sacrifices that being with family has demanded of me, and I know it is time to shift focus to my football and to winning championships. The decision to retire from my family was not an easy one. I know how fortunate I am to be in a position to make this choice and to have a football community as loving, supportive and desperate as the Ohio State Buckeyes are right now."
Some critics are skeptical that Meyer will stay resigned from family. They point to 2009, when Meyer, after a 24-hour career as a family man, announced he was retiring from family to spend another year with the Florida Gators. It soon became clear, however, that Meyer had never really retired from family, as the Gators went on to a miserable season and a lousy recruiting class. Soon, everyone urged Meyer to get back to what he was really good at — hanging out with the family. Even with this recent announcement, though, Meyer hasn't ruled out the possibility that one day he may again assume the responsibilities of having a family.
In any case, with Meyer now absent from his family, the search for the next leader of the Meyer household begins. The obvious front-runner for the position is Urban's wife, Shelley. It's unlikely, though, that a decision will be made quickly.
"There will obviously be a pretty rigorous review process," Urban said. "This family is one of the premier in the nation, so I have a lot of confidence that they will be able to find some amazing people to lead it."
Rumored to be in the pool of candidates is Urban's soulmate, Steve Addazio, along with former Florida head coach Ron Zook. But perhaps the most qualified candidate to lead the family is current Denver Broncos quarterback, Tim Tebow. As one insider told us, "Tim already has four years of experience making Meyer look better than he really is."