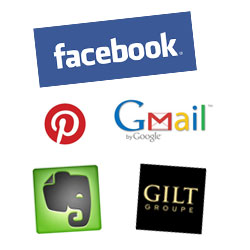 How did a handful of companies launched in the last decade come to dominate the tech world? Even more remarkable, how is that most them spent zero dollars advertising?
It's a puzzling question. I spent six years and hundreds of millions of dollars marketing consumer brands. If I had told my bosses that I could slash our marketing budget and yet deliver exponentially greater results, they would have laughed. But somehow, that's exactly what the best startups did.
My goal is to show you how they did it. . .
The Way Back Machine And Three Truths
So let's take a trip in the Way Back Machine, shall we? The time is April 2004. The place is gmail
When Gmail launched in April of 2004, there wasn't any fanfare. No billboards. No super bowl ads. In fact, it would be almost three years before it was even made available to the public. Today, just seven years after launch, there are 260 million Gmail users worldwide.
While Gmail isn't a rags to riches story (Google was already a behemoth in search) it did face major challenges. Gmail wasn't first to market. They didn't invent email. Far from it. There was hotmail, AOL, prodigy, and literally hundreds of email providers. Most marketers wouldn't have liked their chances here.
Or how about a more recent mystery? How did Evernote take off? Like Gmail, they entered a crowded marketplace with zero advertising support. Yet within four months of launch, they had 125,000 users. And today they have over 5,000,000.
They did it by adhering to the three fundamental truths that govern launches in the information age:
Create something remarkable (and you won't have to advertise it)

Give it away (and you'll earn more money)

Limit availability (and more people will want it)
Let's look closer at each of these.
Create something remarkable (and you won't have to advertise it)
Truth #1 may not seem like a revelation. It isn't. Of course you must start by creating a good product. But it's amazing how many companies (especially those outside of the tech sector) miss this core truth. They think if they can create a product that is "ok" and advertise it a lot, they will win. That doesn't work so well in the information age.
What exactly does it mean to create something "remarkable?" The best illustration I've heard comes from Seth Godin's best-selling book, Purple Cow. Imagine you're driving on a highway alongside miles of beautiful, rolling green hills. Suddenly, you notice something out of the corner of your eye. It's a purple cow. Now, what would you do? You'd probably pull over on the side of the road to take a picture to show your friends. You would do this without anyone having to tell you to. That's because seeing a purple cow is remarkable.
So this is the litmus test for what you build: do people stop in their tracks, pay attention to it, and share it with their friends without you having to ask them to?
At launch, Gmail offered 1GB of email storage. To put this in perspective, hotmail offered 2MB of storage. Google upped the ante by a multiple of 500. That was attention-worthy. That was a purple cow.
Evernote made the task of keeping notes synced across multiple devices mind-numbingly simple. Facebook made it possible to connect with (or stalk) anyone on your college campus. Gilt replicated the excitement of a real life high-fashion flash-sale. Groupon offered insanely good deals on things nearby.
What's your Purple Cow? If you don't have one, stop everything. Nothing else matters until you get this right. You have to make something remarkable, or no one will care.
Give it away (and you'll earn more money)
Sometimes though, being remarkable isn't enough. Remarkable things still fail. So next came a radical idea: what if we made something remarkable and then gave it away? Well, this worked brilliantly. Apparently, a lot of people want free purple cows. Most of the transformative startups of the past 10 years offer some (or all) of their services free to the user.
How do you make money when you give something away? Quite well, it turns out. There are plenty of proven business models to support free offers, like advertising revenue, in-app purchases, affiliate sales, and premium plans. In fact, giving away a large piece of your product can actual make it more profitable. The highest grossing game on the iPhone isn't the popular game Angry Birds. It's Poker by Zynga, which is free to download (but charges to add poker chips).
Of course, not all products lends themselves well to being free. Chipotle wouldn't be in business if it didn't charge you $8.00 for a burrito. But even they know the power of building momentum with "free." When they launch a new store, they give away thousands of free burritos. This is more effective (and cheaper) than buying advertising. Whatever your product, you must find a way to give something away for FREE — especially at launch.
A lot of amazing successes have come from just this formula: create something amazing, then give it away. But the best and most disruptive launches add one final, shocking twist to the formula:
They hide the cow.
Limit availability (and more people will want it)
When something is both desirable and unattainable, it creates a frenzy of demand. Just think about the Tickle-Me-Elmo craze. Or Beanie Babies. That's why this third truth is so vital. If you limit availability, more people will want it. Paradoxically, you get more users when you add constraints.
When Gmail launched, it was a product with seemingly broad appeal. 1GB of email storage for free? Count me in! Well, not so fast. See, you had to have an invitation to join. I distinctly remember in college going around to all my friends, trying to find someone who had Gmail and could invite me. Gmail stayed invitation-only for three years before finally opening the doors to the broader public. This wasn't an accident. It was by design. (It's no accident they did the same thing with Google+. The only problem is that Google+ isn't remarkable)
Evernote, too, launched as an invitation only beta. In 4 months using this strategy, Evernote grew from zero users to over 125,000. Facebook required a .edu email address. Gilt still requires an invitation. Pinterest makes you request an invitation. "Oh, you want to come inside? Sorry, you'll just have to wait."
Of the three truths, this is no doubt that this is the most controversial. I can imagine many people will say, "yes, this worked for gmail or evernote, but this won't work in my industry." Yes it will. I have seen this work in every type of business. It works for launching contact lenses. It works for launching Allergy medicine. It works for launching hand soap. It works for coupon expiration dates (shorter ones get better redemption). It works for informercials. It works because it taps deeply into our desire as humans to have what we can't get.
It does come with some warnings, though. First, remember that this may just be temporary. Once you have momentum, once you have exhausted the early adopters, it may be time to go broader. This may take 3 years (like Gmail) or 4 months (like Evernote). Or you may just decide to keep the restriction in place forever (like Gilt). It just depends on your business and where you are in the lifecycle of your product.
Second, you need to make sure that the way you limit your offering make sense. For instance, with Facebook it made sense when they launched that users could only get in with a .edu email address. Exclusivity was a part of Facebook's value at launch. For Evernote, it made sense to launch as a "beta" so they could work out the kinks with just a few users at first. There are at least five strategies for setting limits on availability: 1) Require Special Credentials, 2) Only allow friends of friends, 3) Create a line and make people wait, 4) Require Groups, 5) Make it difficult to find. By far, the most used are #1 and #2. But get creative and see what happens.
Checklist
So, if you want to be the next Facebook (or even if you just want some new ideas), ask yourself:
What is my purple cow? What do I do that is remarkable?
What can I give away for free?
How can I limit distribution?
Obviously, this is all easier said than done. There's a reason only a handful of companies experience crazy success. But for me, after 6 years of brand marketing, seeing this playbook used again and again in the world's most successful companies has given me a new perspective on how to approach launches, and hopefully, some ammunition for my own launch.